Stealth Software Update
<< Important >>
< Important: For Mac users >
Mac OS X 10.6 or later is required to install the CATEYE Sync Ver.1.1.3.
Please do not install this version if you are using the CATEYE Sync with Mac OS X 10.4.x - 10.5.x. Otherwise you may not be able to use the CATEYE Sync after this update.
Precautions when Installing Ver. 1.1.3


If you are using the previous version of CATEYESync, uninstall it before running the installer.
Please disconnect the USB cable when you install the Ver.1.1.3.

* In Mac OS X 10.8 and later versions, it may not be possible to install the software unless you open System Preferences, select "Security & Privacy", and on the "General" tab, change the setting for "Allow applications downloaded from : Anywhere".

Following the successful download and installation of the CatEye Sync software, we strongly recommend that you return the Security Preferences back to where it was before installation.

Uninstall Method:

On Windows (7/8/8.1): Remove the CATEYESync from the [Programs and Features] or [Uninstall a Program] list in the [Control Panel].

On Windows (10): To remove the CATEYESync, open the Start menu and click [Settings] > [System] > [Apps & features].
Select the CATEYESync in the list of installed apps, and then click [Uninstall].

On Mac: Drag the CATEYESync and cateyeAgent folders from the Application folder to the Trash. Then from the Finder menu, select "Empty Trash".
CATEYE Sync is software for downloading trip data [route information and heart rate, cadence, and power measurements recorded by STEALTH (CC-GL10/11/50/51) and QSeries (MSC-CY300/200) computers] to a PC and uploading it to a website. With CATEYE Sync you can:
Upload data to this website with just one click of a button
Manage trip data that you have saved
Set up cyclocomputer/multi sports computer from your PC
Data migration from e-Train Data

Operating system:

Windows 7 / 8.1 / 10
Mac OS 10.10 or later

Browser:

Internet Explorer 7 or later
Safari 4.0 or later, Firefox
Google Chrome 5.0 or later

PC:

Must meet recommended enviroment for respective OS and must have sufficient disk space.

Last updated:

2017/07/11

Version:

1.1.3 (Mac), 1.1.3 (Win)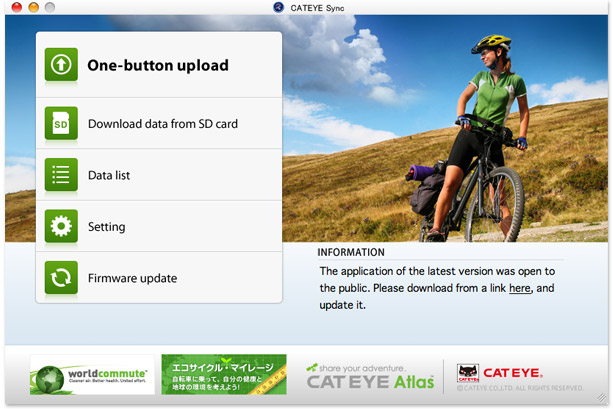 CATEYE Sync for INOU is software for downloading trip data (route information plus ride pictures and videos recorded by INOU) to a PC and uploading it to a website. With CATEYE Sync for INOU you can:
Upload data to this website with just one click of a button
Manage photos and movie data that you have saved
Set up INOU's auto-shooting interval and video resolution
Update INOU unit firmware